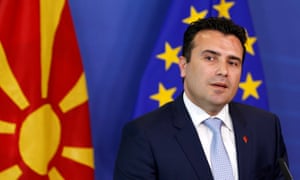 Macedonia is poised to dispatch its foreign minister to Greece as speculation mounts that the two countries are moving towards settlement of the name dispute that has kept them at loggerheads for the past 27 years.
Signalling that a compromise is in the offing, Zoran Zaev, the Balkan state's new Social Democrat leader, used his first official trip to Brussels on Monday to announce that a solution was possible. "I know that if we have friendly relations and a good approach then a solution is feasible," he told reporters before talks between Macedonia's foreign minister, Nikola Dimitrov, and his Greek counterpart, Nikos Kotzias, in Athens on Wednesday.
Zaev, whose investiture two weeks ago followed prolonged political turmoil in the former Yugoslav republic, said he wanted the small but strategic nation to join NATO and the EU "in the shortest possible time". Macedonia, he suggested, could participate in both under the provisional name it currently uses at the UN – FYROM or the Former Yugoslav Republic of Macedonia. "We will try all possible measures to move Macedonia to membership," said the pro-European prime minister standing alongside NATO's secretary-general, Jens Stoltenberg.
The quest comes amid accusations of Russian interference across the Balkan region. The Macedonian government claims the meddling has made membership more vital. Stoltenberg underscored that position, saying NATO's mission was to support all aspiring countries. "We want to see your country as part of a stable, democratic and prosperous region," he said.
The long-running name row has been the single biggest impediment to Macedonia's integration with the west. Greece, which vetoed the country joining NATO in 2008, has argued vehemently that its northern neighbour's nomenclature conceals territorial ambitions over the eponymous Greek province that lies directly to the republic's south. In nearly three decades of often bitter public exchanges, Athens has frequently accused the country of indulging in cultural theft, saying the predominantly Slavic state has deliberately appropriated symbols and heroic personalities from ancient Greek history to buttress its claim to the name.
In a television interview the new prime minister said the politics of antagonising Athens would be terminated immediately. "I can only say that the era of monuments, renaming of highways, airports, sports halls and stadiums with historical names ends," said the leader whose lividly scarred forehead is testimony to the civil unrest that has gripped the mini-state. "We shall generate a politics of joint European future." Zaev was injured when, in an orgy of violence, a pro-Grueski mob stormed parliament in April.
Any potential name change would be put to public plebiscite for approval. Mooted name changes have included adding geographic qualifiers such as "Upper/Горниот", "New/Ново" or "Northern/Северно" Macedonia.
In what was seen by Athens as a major compromise, Greece announced in 2007 that it would give its consent to a composite name in which the word Macedonia could feature. At the time the compromise was supported by Panos Kammenos, the leader of the small nationalist Independent Greeks party currently in power with prime minister Alexis Tsipras's leftist Syriza party.
Since then, emotions have abated as a sense of realpolitik in both countries has taken root. While Zaev believes membership of Euro-Atlantic bodies will help stabilise his ethnically fractious nation, debt-stricken Greece also sees a solution as bolstering its crisis-wracked economy in the Balkan peninsula.
"It is very important that Greece settles this dispute if it is to play an important role in the Balkans," said Dimitris Keridis, professor of political science at Athens's Panteion University. "Our neighbour is suffering from very deep internal divisions with the new government believing that the only way to stabilise it is to make the country part of the Euro-Atlantic architecture," he told the Guardian. "Clearly it is willing to reach a compromise with Greece to achieve this, a compromise that after years of being able to hide behind Grueski's intransigence is going to put Greek diplomacy on the spot."
Source: The Guardian, Helena Smith in Athens,